back
&nbasp;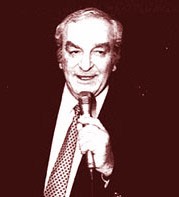 Frank Forster himself would call his paintings " romantic reality "
because all his paintings go into the finest detail.


Exhibitions in Munich,
Bielefeld, Wuppertal, Beverly Hills, Las Vegas,
San Diego, Los Angeles, San Francisco and Carmel.
Frank Forster - a brief biography
Frank Forster was born in Augsburg / Germany on 8th March, 1931 and spent his early years there. After his seventh birthday the family moved to Munich where he attended the local high school. He later worked as an interpreter for the American army. He began his singing career in 1950 by singing mainly in clubs for American troops.
The legendary jazz club "Studio 15" opened in Munich-Schwabing in 1955 and it was there that Frank guested for some years with the Freddie Brocksieper-Quartet.
During 1954, Bavarian Television produced the first shows with a similar format. Two years later, broadcasts of Frank Forster with Kurt Edelhagen Orchestra were transmitted. In the same year Frank signed his first contract with the Polydor Recording Company and achieved great success with titles such as "Cindy oh Cindy" or "Mia casa su casa" and "Cassetta in Canada".
In 1957 Frank Forster was involved in three films:
"Nachts im gruenen Kakadu" with Marika Röck
"Es wird alles wieder gut" with Bernhard Wicki
"Witwer mit fünf Töchtern" with Heinz Erhardt
In addition he undertook several tours with Max Gregor in Germany, Austria and Switzerland.
In 1959 Frank Forster toured Russia with Udo Jürgens and Max Gregor.
In 1960 Frank Forster was placed first in the Knokke International Music Festival in Belgium, in which Udo Jürgens and Inge Brandenburg also participated. It was at this time he began to study painting. His first paintings were mainly water colours and tempera. At the same time Frank Forster was also involved with art-and portrait photography. In 1979 he also participated in a TV production entitled "Music Expedition" which involved touring in Africa and Turkey. As well as being photographic director, Frank Forster also directed the film.
During a trip through the USA, Frank Forster met Andreas Nottebohm in California who was his friend for many years.
Frank Forster remained in the United States for some time and appwared on stage with Dean Martin ans Frank Sinatra.
He was repeatedly overwhelmed by the vibrancy of the magnus opus of the old masters and their painting techniques. At the end of the 70's he became acquainted with the painter Herdin Radtke who lived in Cadaques / Spain where Salvador Dali also lived and worked.
Frank Forster was enthusiastic about Herdin's work in the style of the old masters and showed him some of the paintings that he had done earlier. Herdin encouraged Forster to start painting in oils. Forster took up Herdin's invitation to visit Cordaques in January 1980. Together with his lifelong partner Isa, he studied the techniques of painting in oils with Herdin Radtke. From the outset Forster obsessively copied the old masters in an attempt to discover his own style. The friendship between Forster and Herdin lasted until the end and exchange of experiences founds expression in the oil paintings of both artists.
His first exhibition took place in Munich in 1986 where Forster sold many paintings and achieved great critical acclaim and press coverage as a result of his captivating painting techniques. In the following year, he and Isa flew to Los Angeles based on this good publicity. Forster made contact with numerous gallery owners and it was for this reason that Forster and Isa visited California and the south-west states annually until 1994. His exhibitions in San Francisco, Los Angeles, Beverly Hills, Las Vegas, San Diego and Carmel were highly successful and his works were exhibited in serveral galleries.
Through an old friend, Falk Volkhardt, Forster got the opportunity to stage an exhibition in the Baroque Hall of the prestigious hotel "Bayerischer Hof" in Munich in autumn 1989. Around 300 guests attended the opening evening, among them many friends ( Hugo Strasser, Max Greger, Klaus Havenstein etc ) and acquaintenances from his successful time as a singer and fim producer. The exhibition was entitled "Music and Painting" and was a great social event, accompanied by old hits of Frank Forster and his former musical colleagues. This became an annual highlight of many national and international exhibitions until Falk Volkhardt became seriously ill in 1994.
Frank Forster also had serious health problems at this time and refrained from taking part in any further exhibitions.
Although his painting can be divided into the distinct categories of roses, romantic landscapes, animals, fruit, still life, and others. Forster was constantly searching for new motivation so that his creativity and inspiration did not become routine.
In 2000, Frank Forster finally married his lifelong partner, the beautiful Marie-Luise ( Isa ) Gnegeler



who was formerly a top fashion model.
Frank Forster died on 19th April, 2006.
Translated from the original German by John R.Hackworth, Newcastle upon Tyne, England